---
We help public institutes achieve better interoperability.
---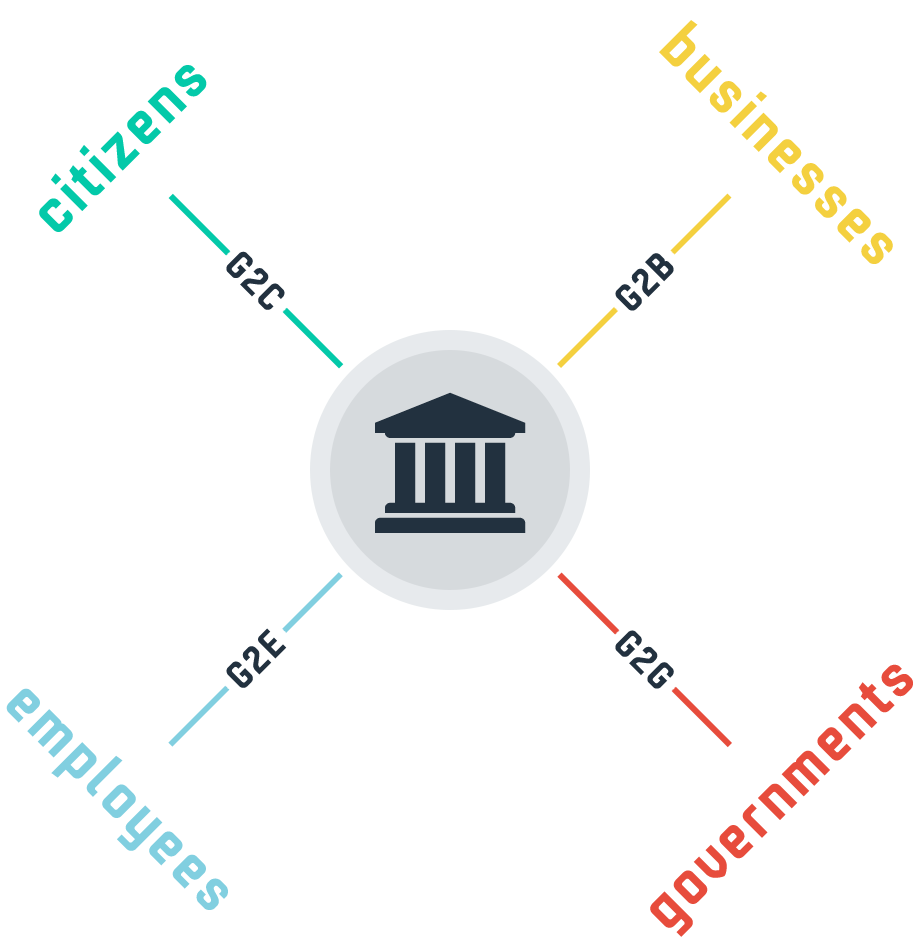 We develop standards-based Information and Communication Technologies (ICTs) to improve and/or enhance on the efficiency and effectiveness of service delivery in the public sector. The key point in the previous sentence is "standards-based". Having roots from academics, we have extensive know-how in standardization and our team has been working on standards (both at the development side and user side) for about 15 years. The use of the standards avoids reinventing the wheel and develops effective solutions, whose efficiency/effectiveness have already been proven.
We have worked in all aspects of eGovernment including:
G2G (government to governments)
G2C (government to citizens)
G2E (government to employees)
G2B (government to businesses)

Data Model Analysis
We can help the public institutes to develop the right data models for their (planned or already developed) architecture and identify (and use) the right standards to be used for those data models.

Business Process Analysis
We can help the public institutes to analyze their existing business processes they use daily and identify any bottlenecks and develop the right business process for their architecture. We also help to discover the right standards-based solutions for the business processes.
Take a look at what we have achieved in eGovernment:
---
In 2008 together with Revenue Administration we developed the eInvoice data model and the business processes for Turkey. We used UBL 2.0 (Universal Business Language) and customized this data model based on Turkish requirements. The eInvoicing system has been in operation since the beginning of 2009. The companies are allowed to exchange electronic invoices among each other through this system. We upgraded this data model to UBL 2.1 and increased the number of invoice types to be used in 2013-2014.
---
The BII initiative (supported by CEN and European Commission) aims to address interoperability issues in European public procurement, by developing technical specifications to implement eProcurement processes in a compatible manner across the EU. The Workshop deliverables provide a basic framework for interoperability in pan-European electronic transactions expressed as a set of technical specifications that cross-reference relevant international activities. The scope is public procurement but the specifications apply as well to private trade. What we have performed in this BII workshop is to develop syntax implementation guidelines for post-award documents: Invoice, Order, Order Response, Despatch Advice, Catalogue and Credit Note. The standards used in these syntax implementation guidelines are UBL 2.1 and UN/CEFACT XML. In other words, we develop detailed technical guidelines for real implementers of the BII specifications. The BII documents are also used in PEPPOL project, which aims to achieve interoperability in public procurement across Europe.
---
The Data Dictionary Server, built on top of Semantic MDR, enables collaborative standards-based data model generation. The tool already contains standards such as UBL, UN/CEFACT, EDXL, OGC SWE that are widely used in eGovernment Solutions. The users (either from public institutes or from eGovernment solution implementers) can develop their own data models collaboratively from scratch or use an existing standard.
---
This web based tool allows the users to customize any UBL 2.1 electronic document to their requirements in a UBL conformant way (i.e. without breaking the customization rules of UBL).
---
Would you like to work with us on eGovernment?
We would love to hear from you!
---