---
Improving your health through research and innovation.
---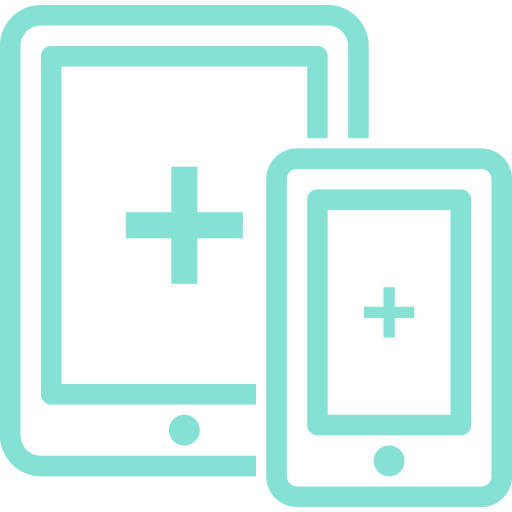 Mobile Health Applications
Do you need mobile health applications to facilitate close co-operation with your patients as a hospital? Or as a patient do you want to keep track of your own health status, view your lab results, past illnesses, or monitor your body weight and activities? We can provide you mobile health applications that can collect vital signs from wireless medical sensors, enable the management of personal health records through mobile interfaces, and enable co-management of chronic diseases by the patients and caregivers through a mobile platform.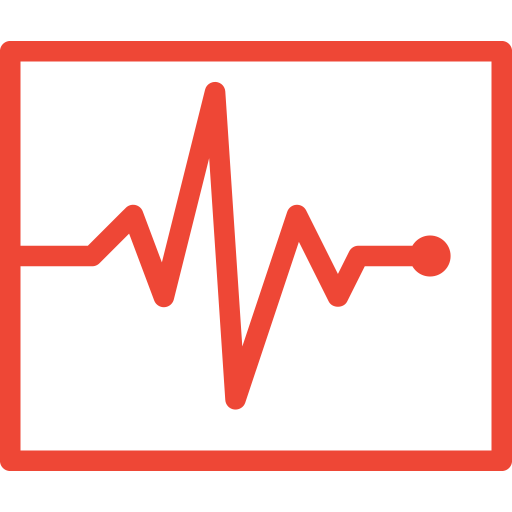 Chronic Disease Management and Remote Health Monitoring
Do you need decision support systems and patient empowerment frameworks for the management of chronic patients? As SRDC we can build chronic disease management solutions based on semi-automatic execution of clinical practice guidelines collecting patient status from Electronic Health Record systems and wireless medical sensor devices, and provide decision support to health care professionals, as well as to the patients to manage their chronic conditions. Patients, caregivers, and health care professionals can be alerted about critical situations about patient's current status.

Interoperability between Health IT Systems
Do you need support for integrating disparate, heterogeneous health IT solutions? We can support you for implementing interoperability solutions based on international eHealth standards, and IHE integration profiles. Are you a clinical research institute that aims to access Electronic Health Records for clinical research purposes? SRDC can support you to address semantic interoperability hurdles to access and meaningfully analyze electronic health records through a semantic metadata registry and a terminology mapping server.

Consultancy on eHealth Standards
We have vast experience in international eHealth standards and terminology systems including:
HL7 Messaging Architecture
HL7 Clinical Document Architecture (CDA)
DICOM
Integrating Healthcare Enterprise (IHE) interoperability profiles
ISO/IEC 11073 – Health informatics - Medical / health device communication standards
Continua Health Alliance Specifications
CDISC Standards
eHealth Terminology systems including SNOMED CT, LOINC, ICD9, ICD10, RxNorm, ATC, MedDRA
Do you need training, consultancy and interoperability testing services related with these standards? SRDC can be your business partner.
We build standard-based and practical eHealth applications.
---
eSağlıkKaydım is basically a personal health record system (PHR) that is integrated with other clinical information systems like Turkish National Health Information System (SağlıkNet). It is a cloud service that enables patients to access and manage their personal health history.
It is a standard based personal health system so that it can easily be integrated with any other clinical information system. By using eSağlıkKaydım, you can provide access to your patients for their health data.
eSağlıkKaydım currently provides chronic disease management and monitoring services for diabetes, hypertension and migraine as well as lifestyle management services for dietary and pregnancy. New modules for other chronic diseases can quickly be implemented in eSağlıkKaydım.
These modules enable your patients to involve in their treatment process and helps them to perform the required periodic activities (e.g. measurements, lab tests, examinations, medication plans, exercise plan, dietary plans, etc) based on the care pathways. In the mean time, the modules enable your physicians to remotely monitor the progress of the patient and evaluate his/her health situation.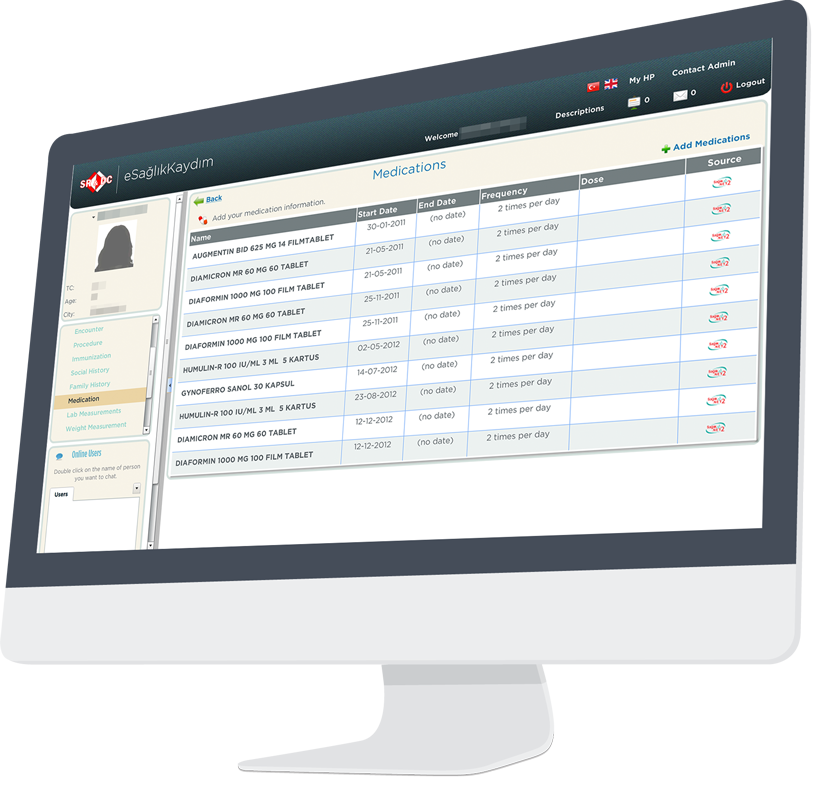 ---
SALUS has explored new ways of accessing and analyzing valuable data found in Electronic Health Records to provide an infrastructure that enables the execution of post-market safety studies for mining and analyzing real-time patient data. Apart from coordination, we implemented the core semantic interoperability platform integrating health care and clinical research domains, and on top of it enabled several high potential safety studies such as temporal pattern discovery and case series characterization.
---
epSOS is a milestone for achieving pan-European cross-border interoperability of electronic patient summary and prescription documents. Although we became part of epSOS in its second phase, we have achieved great success with the first and only open source implementation of the epSOS technical specifications; implementation of the Turkish pilot on top of the national health information system; and leadership of the validation activities at the project level.
---
iCARDEA developed an intelligent platform that enables semi-automatic remote follow-up of patients with Cardiovascular Implantable Electronic Devices (CIEDs) to optimize patient safety and care, alleviate the burden of caregivers, and lower health care costs through ICT support. In addition to coordinating the project, we implemented the iCARDEA adaptive care planner based on context-aware, computer interpretable clinical guideline models integrated with CIED, EHR and PHR data.
---
Take a look at what we have achived in eHealth so far:
---
Achieving Interoperability between Health IT Systems
The first open source implementation of the ICT-PSP epSOS specifications for cross-border patient data exchange, which later turned into a multi-national effort (OpenNCP)
Implementation of the Turkish pilot in epSOS for cross-border patient summary exchange on top of the national infrastructure SağlıkNet ("HealthNet")
Development of a medical device interoperability gateway that communicates with both standards based (ISO/IEEE 11073, Continua Health Alliance) and proprietary devices
Development of a standard-based interoperability framework on top of heterogeneous EHR systems for achieving real-time post-market safety studies in the SALUS project
Creation of a pan-European roadmap for semantic interoperability of national/regional eHealth systems in the RIDE project
As the leader of validation work package, coordinating the interoperability testing activities of all epSOS nations for cross-border electronic patient summary and prescription exchange
Development of AMEF (Artemis Message Exchange Framework) to provide the exchange of meaningful clinical information among healthcare institutes employing different health IT standards through semantic mediation
Patient Empowerment through Mobile and Web Based Platforms
Development of a standards based Personal Health Record (PHR) system named eSağlıkKaydım, supported with patient guidance services (e.g. dietary, pregnancy, diabetes, migraine) and integrated with both EHR sources (e.g. SağlıkNet) and wireless medical sensors
Development of mobile PHR platform as an R&D partner of Turkish Telekom
Development of a Virtual Arthritis Clinic Service connected with EHR / PHR systems and healthcare professionals in ICT-PSP PALANTE project for empowerment of arthritis patients
Development of a Recommender Engine connected with EHR / PHR systems and healthcare professionals in EMPOWER project for empowerment of diabetes patients
Development of a mobile application, Diyetick, for personalized diet management in cooperation with Acıbadem Hospital Group and Turkish Telecom, which currently has thousands of users
Security and Privacy Solutions for eHealth Applications
Development of security and privacy solutions for eHealth applications including Anonymization and De-Identification methods, Audit mechanisms (IHE ATNA Profile) and Consent Management Tools
Chronic Disease Management and Remote Health Monitoring Systems
Personalized remote monitoring of the cardiac patients with electronic implant devices through execution of clinical guidelines in the iCARDEA project
Intelligent monitoring of cardiac patients for providing decision support to healthcare professionals, via wireless medical sensors and already available patient data in homecare and hospital settings in the SAPHIRE project
Consultancy about eHealth Standards
Consultancy services to the Turkish Ministry of Health on implementation and testing of the gigantic national health information system, namely SağlıkNet, since 2007
Consultancy services to tens of Hospital Information System vendors for achieving their conformance to national / international standards, e.g. HL7 CDA R2, IHE profiles, DICOM supported through the TestBATN Platform when required
Active involvement in eHealth standardization activities. Dr. Gökçe B. Laleci Ertürkmen is currently the technical co-chair of the IHE Quality, Research and Public Health (QRPH) domain
---
Would you like to work with us on eHealth?
We would love to hear from you!
---