We are the most successful Turkish SME in Horizon 2020 Programme!
SRDC has continued its successful Research and Innovation activities in the Horizon 2020 programme as well. After having been the most successful company in Turkey in terms of FP7 funding between 2007 and 2012, we have been ranked as the most successful Turkish SME in Turkey in the H2020 programme based on the official data published by the European Commission on 20.09.2021.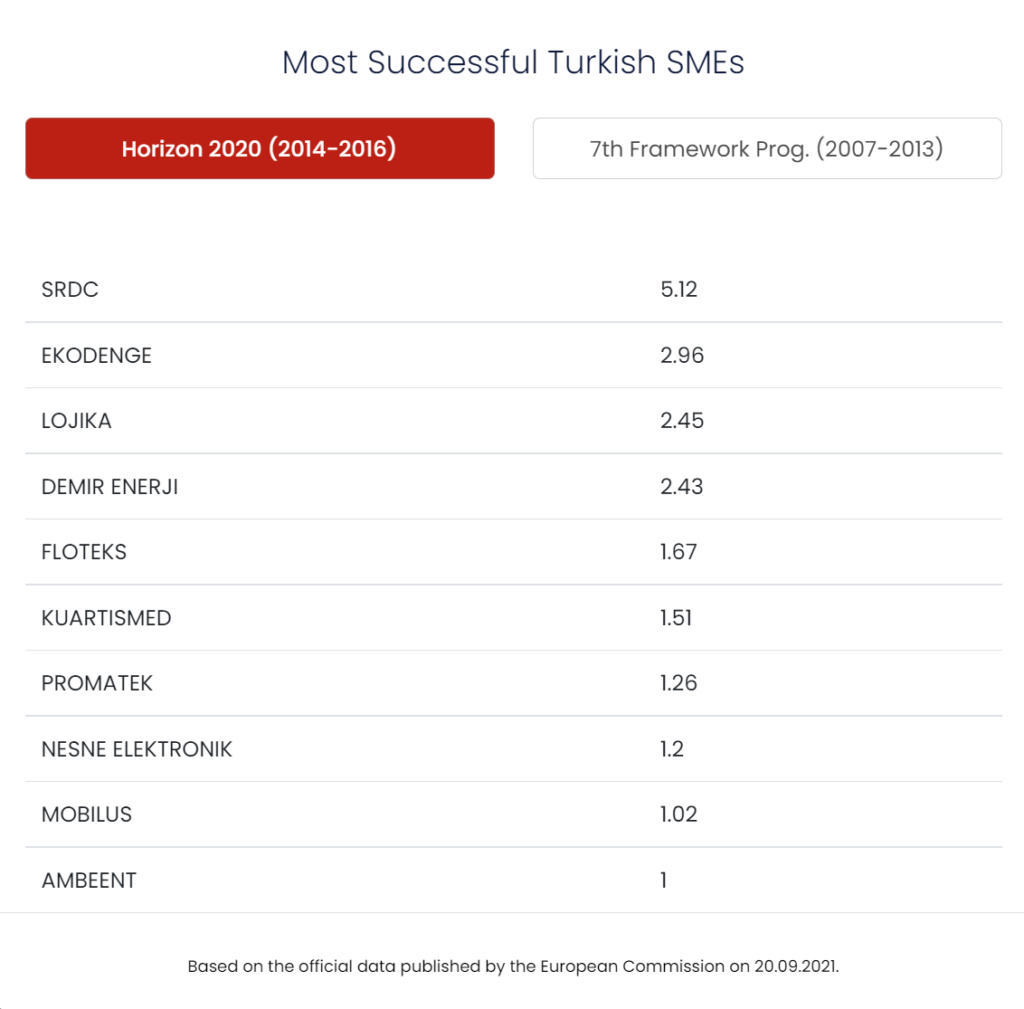 Our company, which received a total of 5.12 million Euros in grant, achieved this success with 11 different projects.
| | | | |
| --- | --- | --- | --- |
| Project acronym | Description | Topic | Call |
| mHealth4Afrika | Community-based ICT for Maternal Healthcare in Africa | eHealth | ICT-39-2015 |
| POWER2DM | Predictive model-based decision support for diabetes patient empowerment | eHealth | PHC-28-2015 |
| C3-Cloud | A Federated Collaborative Care & Cure Cloud Architecture for Addressing the Needs of Multi-morbidity and Managing Poly-pharmacy | eHealth | PHC-25-2015 |
| Trillium-II | Reinforcing the Bridges and Scaling up EU/US Cooperation on Patient Summary | eHealth | SC1-HCO-14-2016 |
| NIMBLE | Collaboration Network for Industry, Manufacturing, Business and Logistics in Europe | Collaborative Supply Chain | FOF-11-2016 |
| EFPF | European Connected Factory Platform for Agile Manufacturing | Collaborative Supply Chain | DT-ICT-07-2018-2019 |
| FAIR4Health | Improving Health Research in EU through FAIR Data | eHealth | SwafS-04-2018 |
| ADLIFE | Integrated Personalized Care for Patients with Advanced Chronic Diseases to Improve Health and Quality of Life | eHealth | SC1-DTH-11-2019 |
| AICCELERATE | AI Accelerator – A Smart Hospital Care Pathway Engine | eHealth | DT-ICT-12-2020 |
| TeamAware | Team Awareness Enhanced with Artificial Intelligence and Augmented Reality | Emergency Management | SU-DRS-02-2020 |
| CAREPATH | An Integrated Solution for Sustainable Care for Multimorbid Elderly Patients with Dementia | eHealth | SC1-BHC-24-2020 |